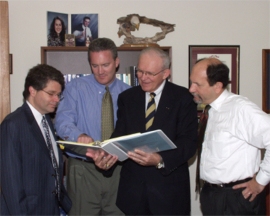 John J. Christopher, Jeffrey F. Swiatek, Karl W. Kristoff, David A. Farmelo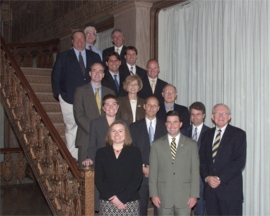 Row one: Lura Hess Bechtel, Brendan P. Kelleher, Karl W. Kristoff; row two: Elizabeth D. Carlson, Michael B. Risman, John J. Christopher; row three: Peter C. Godfrey, Anne Smith Simet, F. William Gray, III; row four: John A. Alessi, Michael E. Maxwell; row five: Peter K. Bradley, Ryan L. Everhart; row six: Paul I. Perlman, Benjamin M. Zuffranieri
Hodgson Russ LLP, which provides high-quality legal services to help school clients establish the best possible educational and work environments, is pleased to support the important work of the Western New York Educational Service Council.

Over the past 30 years, our attorneys have advised on the operations and employment matters of school districts and legal issues involving students. Our attorneys have extensive experience in every aspect of education law, including:
Administration of collective negotiations agreements in school districts and the Taylor Law

Constitutional issues, including due process, search and seizure, and the First Amendment

Contingency budgets in New York State

Discipline of classified and certified employees

Environmental law matters

Federal and state civil rights laws

Grievance administration and arbitration

Litigation

New York civil service issues

New York State and federal laws generally affecting public schools

Public Officers Law

Regulations and decisions of the New York State Commissioner of Education

Rehabilitation Act (§504) and Americans with Disabilities Act

School building construction, closings, sales, and leases

School finances

School transportation issues

Special education

Student rights and discipline

Tax issues pertaining to wages and benefits

Tort liability of school districts and officials
The Education Law Practice Group attorneys present several annual seminars, conferences, and customized workshops for clients.

For more information about Hodgson Russ, please go to www.hodgsonruss.com. For in-depth school-law information, go to www.hodgsonruss.com/schoolnet/.