A Platinum Level WNYESC Sponsor
Apptegy builds products and provides services that empower you to run better schools. Our products make it easy for administrators and educators to reach and interact with your parents, students, staff, and your community at large. Our services support district marketing teams better manage and execute marketing. In combination, Apptegy simplifies and improves schools' communications and helps you change how the public thinks and feels about your schools. Contact Carmella Seely at carmella.seely@apptegy.com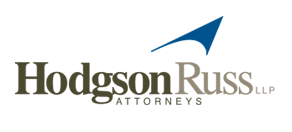 A Platinum Level WNYESC Sponsor
For 200 years, Hodgson Russ has contributed to the growth and prosperity in the communities we serve. From the top down, our attorneys and staff have committed themselves to helping others in areas such as health care, education, the arts, civic and business interests, and social issues.
The Firm proudly supports more than 250 charitable and community organizations within Western New York and across the country.
Whenever you need us, whatever the legal issue, and wherever you are, Hodgson Russ is ready to respond. With more than 200 attorneys practicing in all major areas of U.S. law, we have the range and strength to assist with your business needs. Since 1817, clients have entrusted their legal matters to Hodgson Russ because they value our perspective, insight, and understanding of their situations ― and we hope you will, too.

A Gold Level WNYESC Sponsor
The Think Tech platform provides the most exciting digital means of authentically engaging students in content to create oral, written, and graphic content that teachers can view and respond to instantly. The finest educational software available to students. Contact Founder/ CEO Scott Martin at scott@gothinktech.com to see how this BOCES aidable project can make a difference in your school or District.
NWEA® is a research-based, not-for-profit organization that supports students and educators worldwide by creating assessment solutions that precisely measure growth and proficiency—and provide insights to help tailor instruction. For more than 40 years, NWEA has developed pre-K–12 assessments and professional learning offerings to help advance all students along their optimal learning paths. More than 11 million students in 146 countries use our solutions to support their learning and growth each year.
Contact Information:
Cathy Fabiatos, Executive Account Manager
Email – cathy.fabiotos@nwea.org. Phone – 716-207-5036
For information about NWEA's services please use these links:
MAP Suite Solutions. Professional Learning. School Improvement